Who we are
Founded in 1953, Nakanihon Air Service is a leader in the Japanese aviation industry. We began providing service at the International Nagoya Airport (RJNN), and continued uninteruptedly through the conversion from RJNN to the newly designated Aichi Prefectural Nagoya Airport (RJNA) in February 2005. Our commitment to a tradition of first-rate service continues at Aichi Prefectural Nagoya Airport to this day. With broad operational expertise in helicopters and fixed wing aircrafts, both domestic and international, we provide "feel at home" assistances for all corporate and private jets traveling to our region. We are your Premium Class concierge service from "touchdown" to "takeoff".
How can we help you
Ground Handling Services
On February 17, 2005, the local Aichi Prefectural Government purchased Nagoya Airport from the central government with the intention of transforming the airport for use by the international business aviation community. Echoing this monumental acquisition of the airport, Nakanihon Air Service, organized our ground handling department in order to provide quick, safe and courteous service for all arrivals and departures. Our unit is comprised of dedicated personnel offering premium class customer service in a friendly and professional manner. We will roll out the "red carpet" and make you, our customer, feel instantly at home. Won't you come and experience the full range of ground support we have to offer, and make Nagoya Airport your prerferred destination when visiting Nagoya, Tokyo, Osaka, and all points in between.
---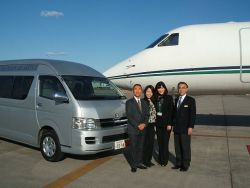 ---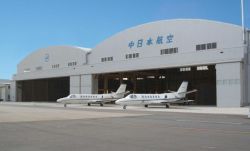 Services include
Landing permits
Full ground handling support
VIP passengers escort
Meet and greet crew (VIP standards)
Timely fuel coordination ensuring quick turns
Organizing Customs, Immigration and Quarantine Issues
Arranging transport, Catering & Hotel Accommodations
Providing Weather, Notams and Navigational charts (at crew request)
Obtaining ATC's confirmation on Operator pre-filed Flight Plans thereby guaranteeing scheduled departure times
Please review the following websites for detailed information about Nagoya Airport
http://www.nagoya-airport-bldg.co.jp/en/bj/index.html
http://pilots4rent.com/forum/index.cgi?act=ST;f=48;t=152
Air Charter
Nakanihon Air Service is a leading operator of 20 fixed-wing aircraft and 60 helicopters, holding a JCAB (Japan Civil Aviation Bureau) Air Operator Certificate. Our Citation V light jet can serve customers' needs for domestic and overseas charter flights, and our B200 King Air is also great for domestic use. We also offer twin-engine helicopter service in order to transfer to other airports quickly.
Why us?
We have broad expertise in both domestic and international air charters operations for passenger transports, air ambulance, etc. Our reputation is highly regarded among experienced travelers, and our gracious staff is highly praised for their prompt response time and professional attitude.
---
---